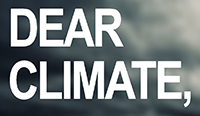 The Climate Stories Collaborative is pleased to present Signs, Wonders, Blunders, a temporary public art installation by art collective Dear Climate that takes the form of a campus wide trail marker system exploring the complexities of cross disciplinary conversations on climate change. It will open in late fall 2019 and be up on campus through spring 2020.
Fall Public Events with Dear Climate
Artist Talk with members of Dear Climate | Monday, Oct 28, 6pm, Belk Library Rm 114
Marina Zurkow and Una Chaudhuri will discuss their processes of art making, conceptual frameworks, and history of production. This talk will offer a strong foundation for appreciating and engaging the public art project they have created for our campus.
Climate Lens Workshop with Una Chaudhuri | Weds. Oct 30, 11am-12pm |Student Union Rm 417, Beacon Heights
A brown bag lunch workshop based in the work of Climate Lens, an international network of theater makers and creatives who pursue an imaginatively expansive approach to the phenomena of climate chaos, seeking new perspectives that include but also move beyond questions of politics and policy–and beyond expressions of fear, anger, and despair. Come learn about their approach and methods for uncovering and displacing the habits of mind and feeling underlying the current climate crisis and its history.
Dear Climate: Opening Conversations | POSTPONED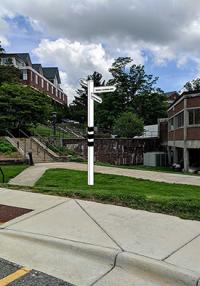 Details TBA.
---
Upcoming Curricular Opportunities
Climate Stories is looking to partner with classes across the university for an "adopt a sign program" to produce objects, performance and creative research that responds to the playfully provocative language found on the trail markers. These creative projects will be highlighted during the Climate Stories Showcase in April 2020. For more information and to explore how your class might be involved with this program contact, Jennie Carlisle at carlislejk@appstate.edu. Teaching guide for the project coming soon.
---
---
Conceptual Background on the Installation
Signs Wonders and Blunders is an open ended trail system consisting of thirteen trail markers positioned at footpath intersections across central campus. The markers contain evocative fragments of language gleaned from a wide variety of climate focused scholarly texts from many different disciplines, along with the artists' own playful interpretations of the texts' key ideas.
The language chosen for the trail markers encourages readers to cultivate a multispecies perspective on the problems of climate change and to consider the transformational potential of emotional and personal connections to these problems. It also highlights the important roles that language and cultural discourse play in the way we both understand and address the central issues of climate change.
The trail system implied by the placement of the markers does not require viewers to encounter the markers in a specific order or as an entirety in order for them to meaningfully engage with the project. Instead, the installation encourages new routes between markers, open ended exploration across campus, and freeform engagement that allows those who encounter elements of the project to create their own conceptual connections over time.
---
About Dear Climate
DEAR CLIMATE is an ongoing creative-research project that was founded in 2012 by Una Chaudhuri, Fritz Ertl, Oliver Kellhammer and Marina Zurkow. The collective hacks the aesthetics of instructional signage and the techniques of meditation to lead viewers and listeners towards a better informed, more realistic, and more affectionate relationship to the more-than-human world, including geo-physical forces, and others species. Their work takes many forms: installations and public art interventions, as well as guided meditations, workshops and poster campaigns.
Members of Dear Climate:
Marina Zurkow builds animations and participatory environments that focus on humans' relationships with animals, plants and the weather. Recent exhibitions include bitforms gallery; the Montclair Art Museum; Smithsonian American Art Museum; Museum of Fine Arts, Houston; National Museum for Women in the Arts; Borusan Collection, Istanbul; and the Sundance Film Festival. Zurkow is a 2011 John Simon Guggenheim Memorial Fellow, and has been granted awards from the New York Foundation for the Arts, New York State Council for the Arts, the Rockefeller Foundation, and Creative Capital. She is on faculty at NYU's Interactive Technology Program (ITP), and is represented by bitforms gallery.
Una Chaudhuri teaches English, Drama, and Environmental Studies at New York University. Her recent books include The Stage Lives of Animals: Zooësis and Performance, Animal Acts: Performing Species Today (co-edited with Holly Hughes) and Ecocide: Research Theatre and Climate Change (co-authored with Shonni Enelow). She is a founding member of the CLIMATE LENS creative network.
Oliver Kellhammer is a Canadian land artist, permaculture teacher, activist and writer. His botanical interventions and public art projects demonstrate nature's surprising ability to recover from damage. Lately, his work has focused on cleaning up contaminated soils, reintroducing prehistoric trees onto landscapes damaged by industrial forestry and cataloging the biodiversity of brownfield ecologies. Recent writings include 'Neo Eocene' published in Making the Geologic Now, edited by Jamie Kruse and Elisabeth Ellsworth (Punctum 2012) and 'Violent Reactions' in Marina Zurkow's Petroleum Manga (Punctum 2014). He divides his time between rural British Columbia and Alphabet City.
---
Project Facilitation
This project is co-organized with the Smith Gallery, the Art Department's Teaching Gallery located in the Schaefer Center for the Performing Arts, with support from The Office of Cultural Affairs, University Facilities Management and Physical Plant and the Chancellor's Office. Funding for the project comes from a 2019 Chancellor's Innovation Scholars Award and the Smith Gallery.