About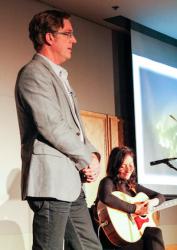 The Climate Stories Collaborative at Appalachian State University is our response to the growing call for more transdisciplinary and creative approaches to climate change communication. Our mission is to grow the capacity of our faculty and students to be more creative and compelling climate storytellers. Ultimately, we intend to help disrupt the "spiral of silence" on climate change and close the gap between those who acknowledge the realities of global warming versus the much smaller percentage who actually talk about it. Our goal is to engage more people in meaningful climate conversation and action to address climate change.

Inspired by February 2017 visit to our campus by Jeff Biggers—celebrated author, historian, playwright, and leader of the Climate Narrative Project—a small group of faculty founded the Climate Stories Collaborative in May of 2017. We have since grown to engage more than 80 faculty representing 25 units across campus. In just three years, our projects and events have engaged more than 4000 members of our campus and broader community.
Our flagship program is our Annual Showcase of student work, and we also hold special events (link to climatestories.appstate.edu/special-events) with artists, scholars, and others who can help us better understand and communicate climate stories.
Interested in our approach and what we're learning? Read our paper, Storying Climate Change at Appalachian State University (PDF of article here), published in Practicing Anthropology's summer 2019 special issue focused on the theme "Storying Climate."
---
The Climate Stories Collaborative is led by co-facilitators Laura England (Sustainable Development), Derek Davidson (Theatre & Dance), and Jennie Carlisle (Art).