Special Projects & Events
Upcoming, Ongoing and Past Projects
Visit with Climate Storyteller Matt Scott (April 2023)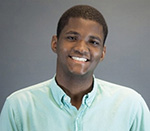 We enjoyed hosting Matt Scott and learning about his inspiring work at Project Drawdown elevating and amplifying stories of diverse, everyday people who embody climate agency and empowerment. Between his public talk and sessions with 10 participating classes from across campus, Matt connected with more than 400 students while at App State!
Read more about this event here.
---
Elevating Climate Conversations Website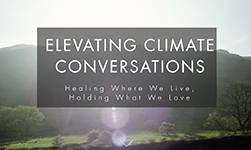 In the Spring of 2021, three classes that read the 2020 climate anthology, All We Can Save: Truth, Courage and Sloutions for the Climate Crisis, created an online space to share students' original climate stories, in essay and audio form, as well as a student-curated Elevating Climate Syllabus with resources for anyone wanting to explore the themes of All We Can Save. including: our climate "response-ability" and agency, feminine and feminist climate responses, justice-centered climate responses, collaborative/community-based/collective climate responses, climate courage and resilience, and (re)connection/(re)integration with nature.
Visit the Elevating Climate Conversations website here.
---
Visit with Dr. Ayana Elizabeth Johnson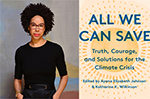 In February 2021, we co-hosted a virtual conversation with Dr. Ayana Elizabeth Johnson. Dr. Johnson is a leading voice in the climate conversation and co-editor of the 2020 anthology All We Can Save: Truth, Courage, and Solutions for the Climate Crisis, a powerful collection of writings by women spanning backgrounds, approaches, and generations at the forefront of the climate movement.

Read more about this virtual event and watch the recording here.
---
Signs, Wonders, Blunders with Dear Climate
In the 2019-2020 academic year, we brought the NYU-based artist collective Dear Climate to campus to create a commissioned project involving both the university community and the greater community of Boone. Our project centers around an exhibition of work by Dear Climate and includes gallery based educational programs, faculty and student workshops, the development of creative curricular assignments, and a suite of public performances and events. Read more about the ongoing exhibition Signs, Wonders, Blunders here.
---
Past Projects & Events

Rising Readings (October 2020)
Words and ideas from Elizabeth Rush's book of climate stories Rising: Dispatches From the New American Shore were brought to life in this event produced by the Department of Theatre and Dance and led by Climate Stories co-facilitator Derek Davidson. Watch the production here.
---
Visit by Dear Climate Artists (October 2019)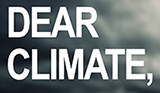 Marina Zurkow and Una Chaudhuri, members of the Dear Climate artists' collective, visited campus to discuss their processes of art making, conceptual frameworks, and history of production, providing a strong foundation for appreciating and engaging the public art project they conceived for our campus, Signs, Wonders, Blunders. Chaudhuri also led a workshop based in the work of Climate Lens, an international network of theater makers and creatives who pursue an imaginatively expansive approach to the phenomena of climate chaos, seeking new perspectives that include but also move beyond questions of politics and policy–and beyond expressions of fear, anger, and despair.
---
Mel Chin shared his philosophy and work with an audience of more than 300 students, faculty, staff and community members. Chin is a conceptual artist whose work is shaped by immediate social, political, and environmental concerns. Past projects include Revival Field, a project that has been a pioneer in the field of "green remediation" and Wake and Unmoored, an interactive VR experience that visualizes climate change impacts in Times Square, New York City.


---
Earl Swift did a reading from his new book "Chesapeake Requiem" and a writing workshop, reaching more than 400 students, faculty, staff and community members. "Chesapeake Requiem" takes an intimate look at Tangier, Virginia, a tiny island in the Chesapeake Bay known for softshell crabbing. Fewer than 500 people inhabit the island, and most make their living on the water. To craft the book, Swift spent two years living on Tangier, working with residents and observing the island's traditions. His book sounds a warning on the coming fate of countless coastal communities like Tangier unless action is taken to mitigate and prevent climate change.


---
Climate Justice Month (April 2018)
More than 1000 students, faculty, staff and community members participated in this event series, which was funded by the Office of the Quality Enhancement Plan for funding support through the Global Learning Funding Opportunities program and included visits by: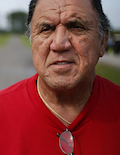 Chief Albert Naquin, traditional tribal leader of the Isle de Jean Charles Band of Biloxi-Chitimacha-Choctaw, shared the story his tribe, which must relocate because their lands on the Isle de Jean Charles, Louisiana are being destroyed by climate change and associated sea level rise.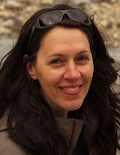 Chantal Bilodeau, playwright and climate "artivist," shared her approach to storytelling to engage audiences in understanding of climate justice issues. She is the Artistic Director of The Arctic Cycle, which produces plays that look at the social and environmental changes taking place in the eight Arctic states; the founder of the blog and international network Artists and Climate Change, and a co-founder of Climate Change Theatre Action.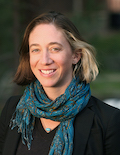 Dr. Elizabeth Marino, anthropologist and climate justice scholar-activist, shared her research exploring the relationships among climate change, vulnerability, slow and rapid onset disasters, human migration, and sense of place. She has also been actively engaged in these issues outside of academia, and recently published a related book, Fierce Climate, Sacred Ground: An Ethnography of Climate Change. Marino is an Assistant Professor of Anthropology and Sustainability at Oregon State University-Cascades.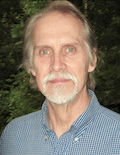 Dr. Anthony Oliver-Smith, anthropologist and climate justice scholar-activist, shared his award-winning research and consultation on issues relating to disasters and displacement in Peru, Honduras, India, Brazil, Jamaica, Mexico, Japan, and the United States. Much of his recent work focuses on climate-induced displacement, migration and resettlement. Oliver-Smith is a Professor Emeritus of Anthropology at the University of Florida.
---
A chance meeting with author, playwright and climate activist Jeff Biggers at a conference in October 2016 inspired us to establish the Climate Stories Collaborative. A few short months after meeting Biggers, we hosted him on our campus for a two-day visit in which he spoke to classes in Appalachian Studies, Art, Biology, Communication, and Sustainable Development; led a half-day workshop for faculty and staff; and performed a version of his multimedia theatrical piece, Evening at the Ecopolis. Biggers tailored this piece to our southern Appalachian community, and shared the stage with award-winning singer-songwriter and ASU alumna Alexa Rose. Biggers' visit energized an initially small group of faculty to action, and in just two years the Climate Stories Collaborative has become a university-wide initiative.