The Climate Stories Collaborative is a transdisciplinary learning community aimed at growing the capacity of faculty and students to use a variety of creative media to tell compelling climate stories, including the stories of those who are affected by, and/or taking action to address, climate change. The project began in the spring of 2017 in the College of Fine & Applied Arts, but is now university-wide in scope. Collaborative co-facilitators include Laura England (Sustainable Development), Derek Davidson (Theatre & Dance), and Jennie Carlisle (Art). For academic year 2020-2021, we are collaborating with the Common Reading Program and the First Year Seminar Program as they read Elizabeth Rush's book Rising. Learn more here.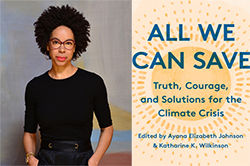 On February 11, we had the honor of hosting a virtual conversation with climate leader Dr. Ayana Elizabeth Johnson.
> Watch the recording
Signs, Wonders, Blunders
The Climate Stories Collaborative is pleased to present Signs, Wonders, Blunders, a temporary public art installation commissioned from art collective Dear Climate that takes the form of a campus-wide trail marker system exploring the complexities of cross disciplinary conversations centering around climate change.