The Climate Stories Collaborative is a transdisciplinary learning community aimed at growing the capacity of faculty and students to use a variety of creative media to tell compelling climate stories, including the stories of those who are affected by, and/or taking action to address, climate change. The project began in the spring of 2017 in the College of Fine & Applied Arts, but is now university-wide in scope. Collaborative co-facilitators include Laura England (Sustainable Development), Derek Davidson (Theatre & Dance), and Jennie Carlisle (Art). During pandemic times, our Climate Stories Showcase is a digital exhibition on Instagram.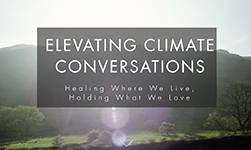 On Wednesday, May 5 at 2:30 p.m., we will launch a student-developed website Elevating Climate Conversations with stories and resources for Healing Where We Live, Holding What We Love
> More info and zoom link to join
Signs, Wonders, Blunders
The Climate Stories Collaborative is pleased to present Signs, Wonders, Blunders, a temporary public art installation commissioned from art collective Dear Climate that takes the form of a campus-wide trail marker system exploring the complexities of cross disciplinary conversations centering around climate change.