2019 Showcase
2019 Climate Stories Showcase: Exhibition + Event Series
In April 2019, the Collaborative hosted it's second Climate Stories Showcase, an exhibition and event series that featured creative works of more than 200 students from 35 classes across the university. Between six public events and thirteen class visits to the exhibit, Climate Stories Week engaged more than 1100 students, faculty, staff and community members. We invite you to view photos of showcase works and the opening reception and to view climate stories films that were screened at our Climate Stories Film Night event.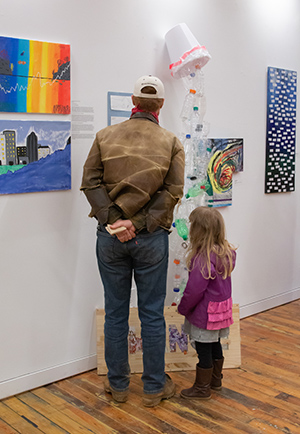 The showcase featured visual and performance pieces expressing climate stories—stories of those who are already affected by and/or taking action to address climate change. A few hundred students, faculty, staff and community members joined us at the college's HOW Space venue downtown to experience these climate stories at the opening reception, which were crafted in a variety of creative media—painting, sculpture, theatrical performance, videography, photography, design, narrative non-fiction and more.
Climate Stories Week events that followed included a climate arts workshop for kids led by Art Education students, an interactive climate forum theatre event led by theatre students, a climate zine-making workshop led by an interdisciplinary team of students, and a film night with climate-themed short documentary films produced by students.
The Climate Stories Collaborative thanks the following sponsors: The College of Fine and Applied Arts; The College of Arts and Sciences; The Reich College of Education; The Hayes School of Music; The Honors College; and The Smith Gallery. Participants contributing to showcase content came from: Anthropology; Applied Design; Art; Communication; Cultural, Gender and Global Studies; Curriculum and Instruction; English; Geological and Environmental Sciences; Government and Justice Studies; Management; Mathematical Sciences; Social Work; Sustainable Development; Sustainable Technology and the Built Environment; Theatre & Dance; and University College.
Download the Climate Stories poster
Designed by students Emily Rowlands and Nicki Jansen