Guest Speaker Matt Scott, Project Drawdown
Your Story is Your Climate Solutions Superpower
Matt Scott, Director of Storytelling and Engagement, Project Drawdown
Thanks to everyone who participated in Matt's Scott's visit to campus at the beginning of Earth Month! Between his public talk and sessions with 10 participating classes from across campus (ACC, BIO, COM, GHY, HON, MGT, PH, PHY, RM and SD), Matt connected with more than 400 students while at App State! Check out his video message for us (click below) and event photos below that. We hope to bring Matt and his colleagues from Project Drawdown back to campus in the coming years!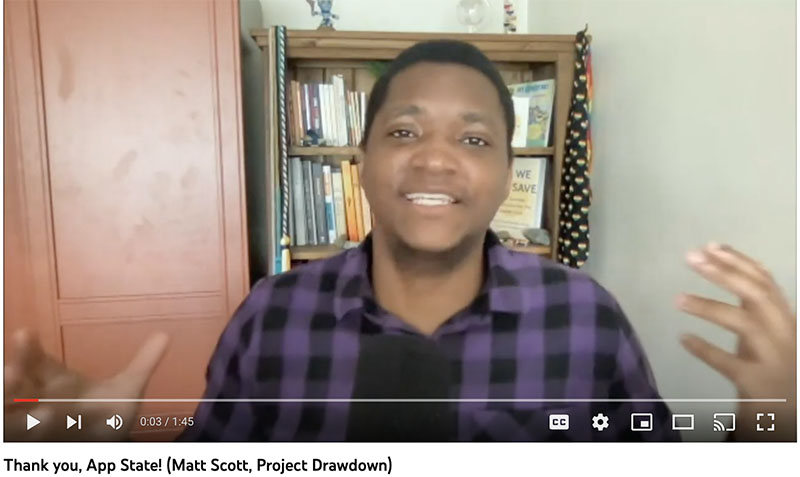 Matt Scott's visit to App State was made possible by support from the University Forum Speaker Series, the Department of Sustainable Development, the Office of Sustainability, Walker College of Business, the College of Arts and Sciences, and Club Council, and is hosted in partnership with the Climate Responses & Response-Ability Initiative and the Sustainability & Environmental Education Club.
---------------------------------------------------------------------------------------------------
Tuesday, April 4, 2023, 5:00 - 7:00 p.m.
Parkway Ballroom (Room 420), Plemmons Student Union
The world's leading climate scientists assert that cross-sectoral, transformational change this decade is critical to avoiding catastrophic climate disruption. We need widespread climate engagement ASAP, but many people struggle to imagine how they can participate in climate action as professionals and community members. So at this moment in history, climate storytellers like Matt Scott are essential to accelerating the actions we need to secure a safe and just climate future.
Join us to learn about Matt Scott's inspiring work at Project Drawdown elevating and amplifying stories of diverse, everyday people who embody climate agency and empowerment. For example, his Drawdown's Neighborhood project produces short films about climate heroes in communities around our country, spotlighting climate action and passing the mic to those who often go unheard in the climate space. Employing both vision and strategy, Matt is a climate communicator whose work counters climate doomism in powerful ways, showing us that any and all of us can take action that is meaningful to our communities and to the world. Read more about Matt below.
Climate Stories (mini) Showcase: In conjunction with Matt Scott's talk, we are holding a small-scale showcase of creative student work telling the stories of climate disruption and/or climate action. We'll feature performances of original short plays as well as visual artwork.

About Our Speaker
Matt Scott, a social impact leader with an academic background in business administration and marketing, has reached nearly half a billion people with insights and inspiration through his digital storytelling career thus far. As Director of Storytelling and Engagement at Project Drawdown--known as the world's leading resource for climate solutions--Matt focuses on passing the mic to those who often go unheard in the climate space. Inspired by human-centered design, Matt shapes and implements the organization's strategy for climate solutions storytelling. Previously he worked at SecondMuse, as global community director and storyteller of the world's largest global hackathon—NASA's International Space Apps Challenge—engaging over 100,000 people in over 150 countries. While building what's been called the U.S. government's largest citizen diplomacy initiative, he also worked with the Australian Government, Pivotal Ventures by Melinda Gates, USAID, the United Nations, Nike, Walmart, and the Obama White House. Read Matt's full bio here.